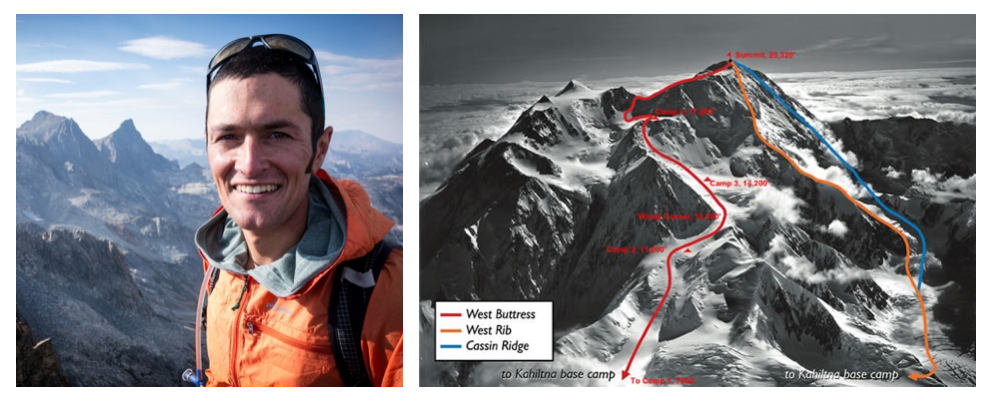 Ian McEleney's Denali Clothing System
Clothing systems should be built around the weather and conditions expected on the trip. My clothing system on Denali needs to protect me from the wind, the sun, and really cold temperatures. While doing this it needs to breathe (particularly on the lower mountain), not hinder my dexterity or visibility, be easy to use, and be light. Every climber will find a different clothing system that works for them; I'm sure some of my more experienced peers will balk at some of my picks, as I would at theirs.
 With that in mind, here's a bit about my experience and preferences. I've guided 5 West Buttress expeditions and been on a number of other guiding and personal trips in the Alaska Range. I believe my total of days in the range is approaching 150. Most of my time on Denali has been in the month of May. I've never experienced any rain on the mountain, and the snow has been, for the most part, dry. I tend to run a bit on the cold side compared to other climbers. In spite of this fact, I hate struggling with bulky gloves, so I go out of my way to wear the thinnest gloves I can get away with. I also have a hard time putting on sunscreen often enough during a Buttress trip, so I make some clothing and gear choices to maximize shade for my face. – Ian McEleney
Feet
Climbing Boots: La Sportiva G2SM. Weight on your feet counts more than in other places. The G2SM is a fairly light double boot that - most importantly - fits my foot well. Out of the box there was one funny spot on my heel so I got the liners molded at my local boot fitter and that resolved it. Compared to older double boots like the Baruntse and Spantik, the newer models walk and climb better and are lighter.
Overboots: Forty Below K2 Superlight. Because I run cold these provide important peace of mind for me on the upper mountain. Pace on summit day is usually of the slow-and-steady variety and I am often moving in all of my layers, including puffy pants. I also use them, paired with my boot liners, around camp instead of down booties. Though this saves some weight and bulk it takes a bit more thought, most climbers prefer down booties. If I was shopping for these again I might try the Penguins model. The integrated gaiter of the G2SM does a fine job keeping snow out, so the super tall upper of the K2 seems superfluous.
Socks: 3 pairs of midweight wool socks. The primary job of your socks is not to keep your feet warm, that's what boots do. Socks provide a layer for the boot to move on (instead of your skin) and wick moisture away from your foot. I see too many climbers head into the mountains with the thickest sock possible because that's what REI sells for "mountaineering". These super thick socks soak up moisture like a towel and take forever to dry. Get something thin to medium weight that works well with the fit of your boot. I don't wear liner socks. I change socks about once a week, caching the old pair at whatever camp we're in to pick up on the way down.
Sleeping socks: 1 pair of thin to midweight. Just for sleeping, these live in my sleeping bag and can be fairly thin. They're kind of a luxury item.
Bottoms
Underwear: 3 pairs of synthetic boxers. Nothing fancy, I change them about once a week and cache the old pair at whatever camp we're in to pick up on the way down.
Long Underwear: 1 pair of midweight, 1 pair of Capilene 4. A lot of guides might just go with one midweight pair. I usually change into the Capilene 4 pair for the day we move up to high camp. Even though I only wear them for 4 or 5 days, the added warmth is worth it for me.
Soft shell pants: some older Patagonia pants. I carry a lot of stuff in my pockets on this trip and prefer two cargo pockets. Adding some shock-cord to go under the instep of your boot helps keep the snow out when you're postholing.
Hard Shell pants: Rab Neoshell. I don't think hardshell gear is particularly necessary on Denali because rain is very rare. These have to be full zip to pull on quickly. The main thing I use these for is as an added wind layer. CAMP used to make full zip wind pants; I would much prefer those for the weight savings and breathability. Folks who run warm or have really windproof softshells may be able to get away without these.
Puffy pants: Patagonia DAS Pants. A necessity! My colleague Chad Cochran turned me on to the idea of wearing these when hanging around camp on the lower mountain, instead of my big parka. Unfortunately this model is long discontinued. Mine weigh 15.3 ounces and I haven't seen a synthetic full-zip pair for a comparable weight. Heavier models seem to have heavier duty fabric and more pockets but don't look like they're actually any warmer for the weight.
Tops
Base Layer: Patagonia Sunshade Technical Hoody and midweight zip neck. The combination of altitude, latitude, and snow means that the sun is relentless on a West Buttress expedition. I find that I can't keep up with the sunscreen, and a loose hood helps me feel cooler. I like the Sunshade Technical Hoody because it has a chest pocket. Above the 14,000 foot camp I wear a basic midweight zip neck instead, as the loose hood doesn't play well with all the other hoods I'm wearing.
Light Fleece: Patagonia R1 zip neck. While I love my R1 Hoody, it's less of an advantage on this trip because of all the other head protection stuff I'm carrying. Again, the chest pocket is useful for me.
Lightweight Puffy Jacket: Patagonia Nano Air Hoody. This has become a go to jacket for me in all sorts of mountain situations, including this trip. The breathability is a really great feature of this jacket. 
Wind Jacket: Patagonia Houdini. This is another go-to jacket for me year-round, doing almost anything outside. It has an excellent utility to weight ratio. I find that this worn over the Nano-Air provides a lot of warmth. I'll also pull it on over any of my other layers for quick weather protection.
*A lot of climbers have the misconception that a "soft shell" must be a woven fabric. Just like a "hard shell" could be a garbage bag or Gore-Tex as long as it keeps the rain out, a soft shell layer is anything that protects from wind and light precipitation while breathing (letting out sweat). In this sense the Houdini and similar 3-4 oz hooded windbreakers are the best softshells because they're lighter and much less expensive than their thicker, heavier, more traditional "soft-shell" counterparts.
Hard Shell jacket: Mountain Equipment Lhotse. If the job of a hard shell jacket is to keep out liquid precipitation, it's not really a necessary item on this trip. However, most hardshell jackets provide a number of other benefits. They're usually cut to fit over all other layers and cut longer than wind jackets. Good models have hoods that provide protection while still playing well with a climbing helmet. The Lhotse also has a bunch of good pockets. It's for these reasons - as opposed to keeping me dry - that I bring a hard shell on the West Buttress.
Parka: Rab Neutrino Plus. Inside this jacket is my happy place. It's out of production, but for folks looking to compare a size large weighs 27.7oz (785g) and has 9.7oz (275g) of down. It's cut a bit longer than other models, and the additional coverage on my hips is really nice. Like any parka suitable for Denali, it has fully baffled construction. Like any proper climbing belay jacket it has a big hood that plays well with other hoods and helmets, and it has an "up-zip" so you can unzip the jacket from the bottom up to access your harness. The one thing it misses are big, open-top, "drop in" pockets on the inside for easy stashing of gloves and other stuff.
Head
Ball cap. Nothing fancy. I like a model that has a big flat brim and a mesh back. I'll carefully pry off the little button on the top because that can get irritating when worn with a helmet. Ball caps play much better with hoods and helmets than a hat with a brim that goes all the way around. I wear this most days on the mountain, it can offer nice protection from stormy weather.
Beanie. Again, nothing fancy. No pom-poms or tassels.
Buff. A lot of companies make these "neck tubes" these days. I like one that offers more UV protection. I also cut small holes in part of it so that moisture from my breathing doesn't get funneled to my glasses.
Sunglasses: An older pair of Julbos with photochromic lenses. The photochromic lenses change tint with the light. This costs more up front, but means that I leave the glasses on more often, and being outside so much I need to protect my eyes. Dark lenses are a necessity, and the pair I have goes down to a visible light transmission (VLT) of 5% when they're in full sun. Myself and many of the climbers I've been with on Denali have found side shields to offer more fogging than protection. I always have them in my pack but never use them. I think with modern curved frames they're not usually necessary. A keeper cord of some kind is nice, and I coat the inside of the lenses with a product called Cat Crap, which reduces fogging. Because I'm wearing these most of the trip (or I want them really handy) I don't bring a hard sided case for them.
Nose cover: Nozkon. I can't keep up with sunscreen on my nose, so despite the fact that I'm not a fan of the look they're a necessity for me. Nozkon is by far the best brand, because they're easy to trim to fit well with your face and glasses. I carry a spare in my pack.
Goggles: Julbo Aerospace with photochromic lenses. I rarely wear these on the trip, but they are part of my emergency gear. Goggles tend to fog up more than sunglasses. This model has a frame that opens up a bit to let in air and so they fog up less. Their stuff sack has a little bit of padding in it, so I worry less about smashing them in my pack. Like with my sunglasses, the lenses change tint. They don't need to go as dark because I'm usually wearing these when it's stormy, and so not bright.
Hands 
Light gloves: Some cheap work gloves. These are a very thin pair of work gloves, and work really well on the lower mountain. They work with my phone screen most of the time. Woven gloves like this are widely available and a great many of them are cotton, which I don't think is ideal in a thin glove for this route.
Medium Gloves: OR Stormtracker Sensor, Kinco 1927KW. The Stormtrackers are a bit more nimble than the Kincos, and they work with my phone. The Kincos are a bit less deft than the Stormtracker, but warmer and a good value. I give them a few coats of Sno-Seal before the trip. The backs are cotton, but I haven't had this be a problem. When it's cold enough for these gloves any precipitation is usually pretty dry.
Big gloves: Black Diamond Guide Gloves. Not much to say about these. I coated them with a Nikwax product that's compatible with Gore-Tex. All the leather takes a bit to break in. I rarely wear these on the lower mountain.
Mittens: OR Alti Mitt shells. I don't bring the liners of these. Instead I'll wear my Stormtrackers. This lets me quickly pull off the shells and let them dangle by their leashes while still having some hand protection on really cold days. I rarely wear these. 
Technical Gear
Helmet: Petzl Meteor. With the latest version of this model it feels like Petzl has made the sizes a bit smaller. That said, great helmet.
Harness: CAMP Alp Racing. This harness is very light (3 ounces!) and simple. There's no need for gear loops as my pack hip belt would cover them anyway, and I can rack anything I want near on my pack hip belt gear loops.
Ice Axe: Grivel Air-Tech Evo (48cm) or Petzl Sum'tec (50cm). I've had this Grivel ice axe for over a decade. It's fairly light and quite durable, with a great adze. Sometimes if I'm going to be using a pair of Sum'Tec's for other climbing in the range I'll bring one with me as my axe on the West Buttress. This is the only climbing trip I ever take where I do occasionally wish for a longer axe. 
Crampons: Grivel G10. This is the model I've used the most on the West Buttress. Front points aren't particularly important on this climb and I like that they're short on the G10. However, I now think that the down points are fewer and shorter than I would like on this model. I'll be switching to a lightweight pair of 12 point crampons. I find a full strap binding to be the easiest to use on the West Buttress.
Locking carabiners: BD Vaporlock or Petzl Attache. I usually carry about 5 of these. I like the lightest, large keylock-nose carabiners for this job as they're easier to operate with gloves. Most auto-locking designs don't work well with gloves, snow, and cold temperatures.
Non-locking wiregates: Camp Photon. Again, I usually bring about 5. The Photon is large, light, and easy to clip.
Primary attachment locker: Grivel Clepsydra S. This captured-eye autolocker resists cross loading and does not freeze up. This is usually my main attachment to the rope. Folks with bigger hands sometimes prefer the larger version of this carabiner. (Not pictured)
Friction-hitch cord: a few feet of 6mm Sterling cord. Sterling makes great handling 6mm nylon cord. I tie it into a closed loop with a double fisherman's knot because I've never needed to untie this loop.
Runners: 120cm (48in) dyneema slings. A couple of these can be handy.
Cordelette: 3m of 6mm Sterling cord. Again, I've found the Sterling cord to handle really well when it comes to tying knots and hitches. 
Progress Capture Pulley: Petzl Micro-Traxion. I carry this mainly as a problem-solving tool and rarely use it.
Belay Device: Petzl Reverso with it's carabiner. Another rarely used problem-solving tool. 
Ascender: CAMP Lift. An ascender is used on this trip on fixed lines found above the 14,000 foot camp. A traditional handled ascender is ideal for the way up, but a lot less useful on the way down. On descent the Lift lets me provide a little extra security for my team.
You can find more of Ian here:
Instagram @ianmceleney
Website www.ianmceleney.com
Climbing Denali or just want to talk about gear? Feel free to call us at the shop anytime - We'd love to hear about your trip: 360-671-1570
---