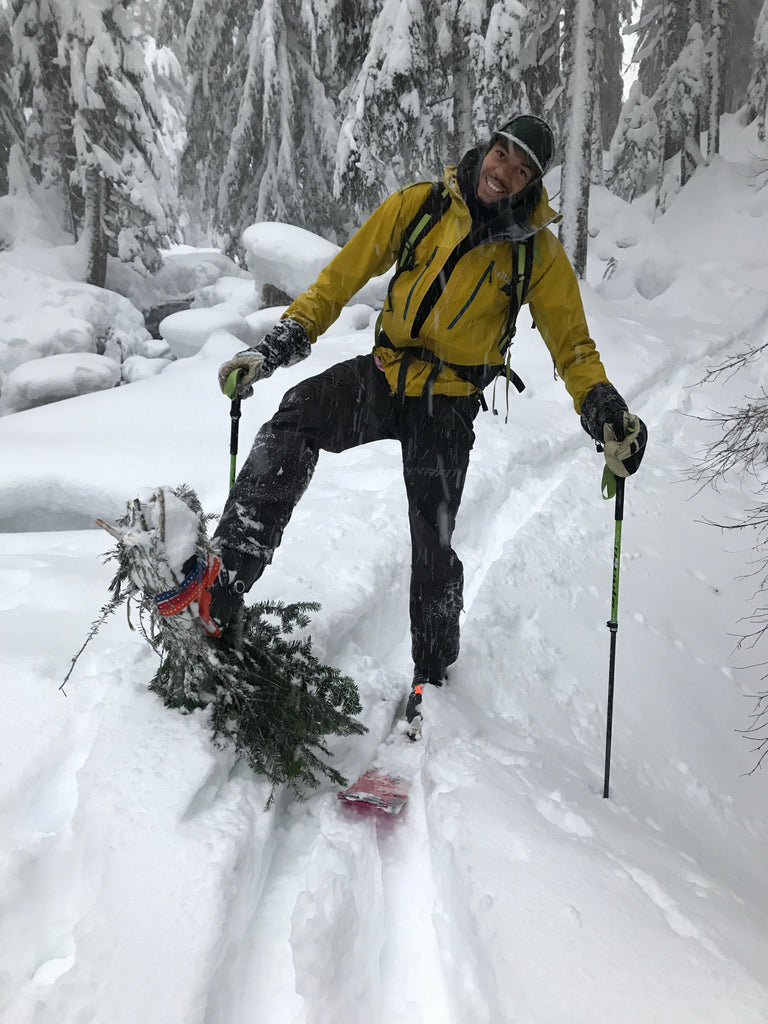 Trip Report: Being prepared for Plan B
"I lost a boot!"
"What do you mean?" I shouted back.
"My ski!" Mallory exclaimed. "It must have popped off when I fell."
"Shit," I thought to myself. 
We had just spent the last 5 hours skinning out to Barometer Mountain, two ridges over from where we had parked our car. Due to the stormy week and freshly fallen, unconsolidated snow, it had taken us longer than expected to break trail out to our destination. On the summit ridge, the easterly winds were lashing at our faces, and beckoned us to quickly transition and begin our downhill descent. We had originally planned to ski a couloir off the north summit, called Sweet Sweet Death, but decided against it due to the potential for wind slab on the entrance, combined with the late hour. The time was 2pm. 
We opted instead for a closer run called Polar Vortex. It was a similar aspect, yet more treed, and less committing. I dropped in first, taking the the first pitch to a "safety island" of trees where I could watch the other ski down. This stopping point felt safe and protected from any slides that could potentially start from above. Sam skied second, and with my direction, leap frogged past me to another safe spot below. Mallory was next. I couldn't quite see past the roll over in front of me, but due to the close nature of trees, I directed Mallory to ski in that direction. We were all excited. The snow was cold and light, and we were ready for some speed after moving slowly all morning. Mallory shot past me and made a hard turn on to the steep slope. CRACK! The slope let loose and Mallory went head over heels. Thankfully it was only a pocket slab (R1/D1), and didn't produce much force, but unfortunately it was the spark that initiated Plan B.
When Mallory stopped, he found that he had slide into some young cedar trees. Unscathed, he began backing away from the group of trees, but soon realized that he had lost a ski. Not expecting that it was actually "lost," I stayed put, assuming he would quickly locate his ski, and we would be on our way. After 5-10 minutes of looking, Sam and I skied over to give Mallory a hand. Probing with the handles of our poles, as well as shoveling around the cedar trees, we combed the immediate area of any strikes that felt like his ski. 5 minutes turned into 20 minutes and the weather began to change. The time was now 230pm and the high clouds had given way to thick snowflakes. With each passing minute, we looked up at each other with raised brows and an uncertain feeling. Even if we found the ski right now, we'd be pushing it to get back to the car by night fall. Another 10 minutes passed as we expanded our search zone down the slide path. 
Exhausted, we all stopped and looked at each other. The ski was lost. Not only that, we were deep in the backcountry, the weather was getting worse, and it was late in the day. 
"I think we need to get moving" I said. "Can you ski with one ski down to the flats?" I asked.
Mallory nodded.
In style, Mallory made quick work of the fresh snow, as we moved together down the slope. In contrast to the situation, I had to let out a few hoots as the snow was so deep and playful! We eventually reached the bottom of the run. Smiling at the 2000ft we had just skied, but nervously anxious at the hours to come.
Transitioning to skins, I knew we had to come up with a way to give Mallory's ski-less boot, a way to float. As we were surrounded by trees at the valley bottom, I proposed that we cut a few cedar/pine bows and secure them to the sole of his boot with Voile straps. Using a snow saw, we were able to quickly cut some branches to build Mallory a makeshift snowshoe. Long (25") Voile straps were extremely handy at securing the bows to his boot. 
Knowing that we could either climb out the way we came, or move laterally and downhill out Anderson creek, we decided on the latter. Moving slowly, Sam and I broke trail for Mallory for the next 5 hours as we navigated creek crossings, sidehills, and the longest forest service road of our lives. By the time we popped out at the highway, it was 8pm and we were beyond exhausted. Luckily, Sam had gotten a text message out a few hours earlier on his InReach, securing us a ride back up to the ski resort where our car was parked. While our lives never really in danger, the InReach surely felt like a lifesaver. At the highway, friends of Sam's drove us back up to our car, where the last element of the day presented itself.
Pulling into the Heather Meadows lot, we noticed a ski area employee looking into the snowy windows of my car. 
"Is this your car?" he asked as we pulled up.
"Yeah" I replied, stepping out of the back of our friends truck.
"Oh good. A lot of people are looking for you."
As the time was now 830pm, my wife had gotten nervous at the fact that I wasn't home, nor had she heard from me all day. Knowing that friends of ours worked at the ski resort, she had called to have them see if my car was still in the parking lot. While this was creative thinking on her part, it lead to her calling 9-1-1, a call that no one likes to make. Fortunately, she was still talking with 9-1-1 when I called her from my car. Nervous and with tears in her voice, I quickly explained that we were alright, and that we would be on our way home shortly. 
We loaded up my car and slowly made our way back to Bellingham. 
"What do you think we could have done differently?" I asked Sam and Mallory.
"That's a good question" said Sam. "But I think we did a lot of things right."
Looking back on our experience, there were a couple elements which set us up for a successful plan B:
Voile straps. These aren't just for holding skis together. They can tension and strap anything from loose skins, to pine bows. I've also used them in place of a broken boot buckle. I usually carry 4-5, and prefer the 25" length.
Multi-tool. While a knife is arguably one of the handiest tools in the world, having the ability to tighten screws and wrench on metal is equally important with all the moving parts on our backcountry gear. In this case, I used my Leatherman to cut/saw branches for Mallory's snowshoe. Having the appropriate drivers and bits for your bindings is equally important.
Headlamp (with extra batteries). While no one plans to come out in the dark, we were all thankful that we had packed a headlamp. I ended up giving Mallory my extra batteries as his died after a few hours. If not in avalanche terrain, you can always remove the batteries from your beacon as a backup as well.
InReach device. We take cell phone coverage for granted these days, but oftentimes we travel out of range, and into dead zones where our only line of communication are satellites. In our case, we were able to send a text with Sam's InReach Mini, and facilitate a pickup at the highway. Without this device, we might have had to wait a while for someone to drive by. To note, we had attempted to text my wife as well, but unfortunately it didn't go through.
While we didn't use any of the following, these remain in my repair kit as well: Spare pole basket, glide wax, extra screws for my bindings, and zip ties. In addition to a repair kit, it can be a good idea to have a UHF/VHF radio, tarp, cordelette, and a first aid kit. 
One thing that really rang home for me after this trip was the fact that I hadn't told anyone where I was going. My wife knew that I was skiing in the Mount Baker backcountry, but that's not a searchable area had something gone wrong. Going forward, I now let someone know where I'm going and when to expect me back. After all, if everything else in your planning and repair kit fails, at least someone will know where you are.
So when venturing out into the backcountry next, make sure you're prepared for plan B. Or even plan C...
Charlie Lane
Retail Shop Manager
---