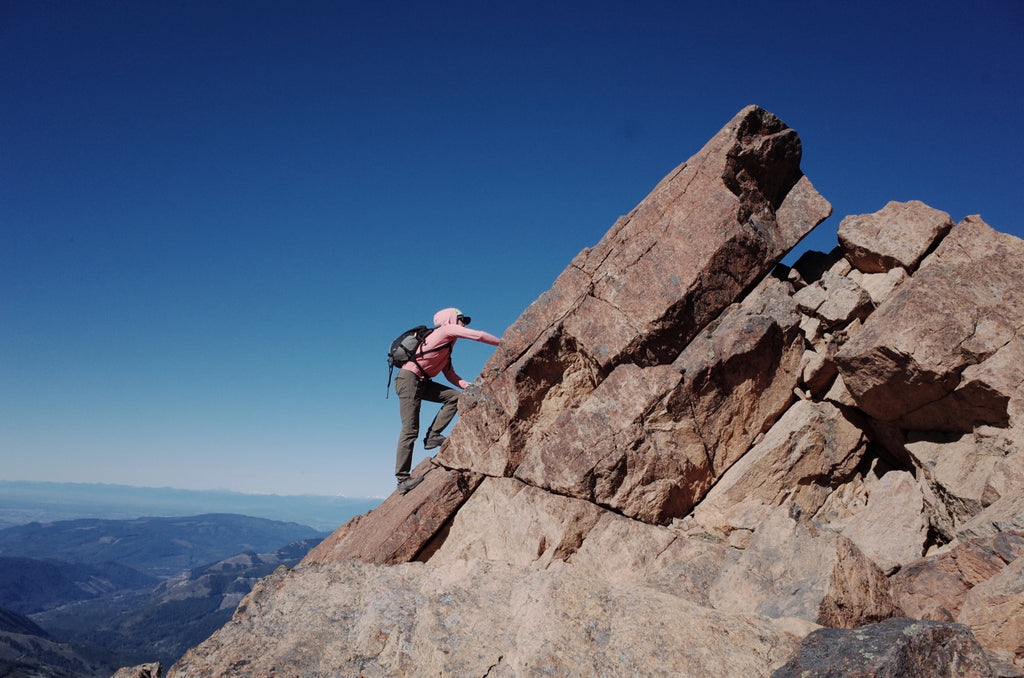 Trip Report: North Twin Sister
With our last summer trip in the books and a beautiful weather window in the forecast, we decided to close the Equipment Shop for a few days and explore our own backyard. If you've ever driven the Mt Baker Highway, you've surely seen the Twin Sisters range and taken awe at it's jagged ridges and [in winter] snow capped peaks. The objective on this day would be the North Twin's west ridge. At 6640ft, the North Twin rises over 5000ft from the Nooksack river valley below, at less than an hour drive from Bellingham. The approach is most often done by biking the logging road from the locked gate to the trailhead. Today however, we had the pleasure of using a Weyerhauser key, which allowed us to drive all the way to the base of the climb. Perks of the job!
The climb starts off as a hike up and into the lower forest, before gaining the ridge and transitioning to rock. This easy to follow path takes about an hour from the logging road, and is mostly shaded - a nice touch for those warm, sunny days. Once on the ridge, the forest gives way to the famously grippy rock known as dunite. This confidence inspriring rock is derived from the Earth's mantle, and is perfect for climbing with a pair of approach shoes. While mostly third and fourth class scrambling, the route has a fair bit of exposure, and requires the ability to navigate and climb/downclimb a few steep sections. On this day, we felt confident enough in our abilities to leave the rope at the home. That said, this would be a great route to practice short pitching, short roping, and other guiding techniques, before taking your adventures into more consequential terrain. 
Three hours after leaving the trailhead, we arrived at the summit. 360 degree views had us wishing we'd brought a bivy. As it would turn out, it was Craig's 30th birthday, so Sam brought up a few beers to crack on the summit. Sipping on hazy IPA's, we relished in the fact that the haze from the fires had disappeared.
This hasn't been the summer than any of us would have chosen, but it has reminded me to give thanks for the simple things in my life. As climbers, skiers, hikers, and explorers, we're constantly looking for new challenges and higher peaks - often times beyond our home towns and backyards. This year however, the challenges we face are far greater than any peak ever climbed. As we stay closer to home in order to limit our effect on the current pandemic, I find myself excited to explore more of my own backyard. Through exploration comes growth. 
While I consider myself to be a strong climber, I am not as comfortable with exposure on rock as Craig and Sam. So when setting out on this climb, I decided that I was going to focus on my movement and specifically, my down climbing. Whether or not we got to the summit, I would improve on my skills, as well as my knowledge. Climbing with others requires patience, but also symbiosis - even without a rope. Today, not only did I get to take in a new climb to celebrate the end of summer with some old friends, I got to grow and improve upon my climbing techniques, and take home an experience than will remain with me long after this year is over.
Craig and Sam gaining the ridge
West Ridge
Traversing ledges
Craig taking it all in
Summit!
Sam showing off his technique (this is off route)
Photos and story by Charlie Lane - Retail Shop manager, American Alpine Institute.
---