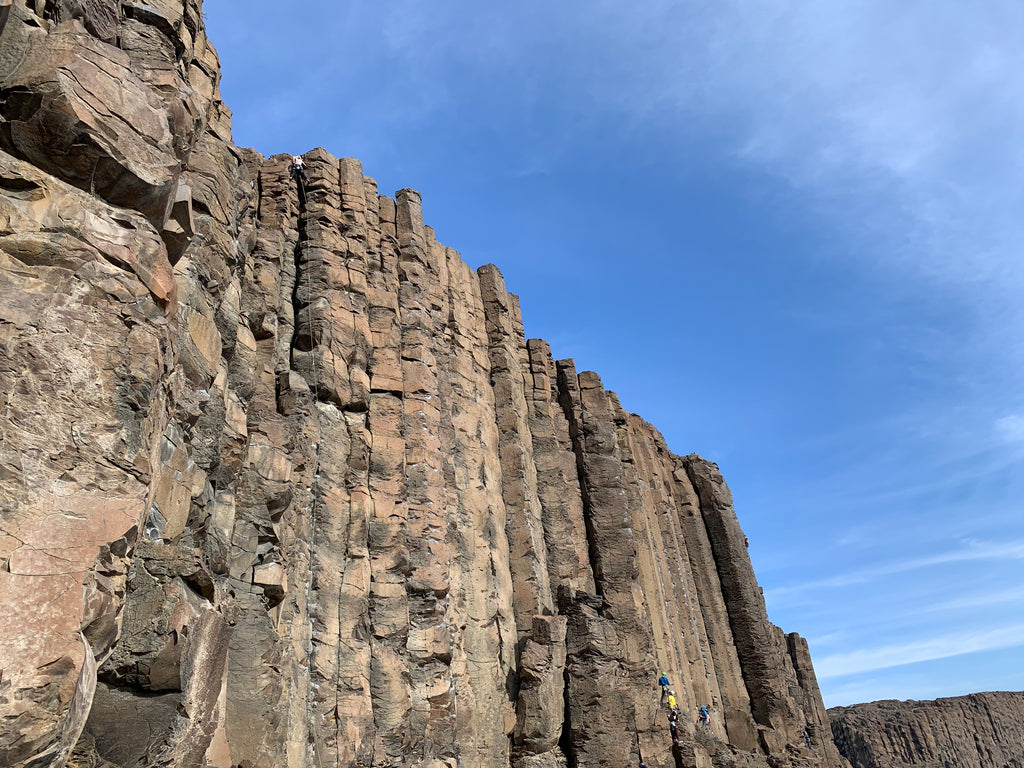 Washington's Best Winter Crags
It's no secret that if you want to send during climbing season, you have to find ways to train in the cold, winter months. In western Washington, most climbers escape the rain by retreating into their local climbing gym or home gym. However, when pulling plastic gets old, and the itch to get outside creeps up, there are a few accessible winter crags in the state that can satisfy the need to touch real rock again.
Here's a list of four crags in Washington state (plus one bonus crag!) that stay relatively dry and warm in the winter months.
Frenchman Coulee (Vantage)
This area is possibly the most iconic Washington winter climbing destination, and that's for a good reason. Located in eastern Washington, about thirty miles east of Ellensburg, Frenchman Coulee boasts a dry and sunny climate perfect for winter climbing. Though the area can get bitterly cold in the dead of winter, if you keep an eye on the weather, it's the spot for very late and very early season climbing.
Frenchman Coulee is geologically composed of tall, basalt columns, which makes for pumpy, vertical face climbing. Most routes are made up of jug-hauls that will leave your forearms screaming, but there are others that require delicate balance on smaller holds. Though this area is certainly dominated by sport routes, there are a fair share of trad routes. The basalt, not as solid as granite, does get chossy, so plan on bringing a helmet and checking out the conditions of routes carefully before climbing, especially when placing gear.
The most popular climbing area here is the Sunshine Wall which, just like the name implies, stays in the sun for most of the day. The super tall, slightly overhung columns here might make you dizzy even if exposed climbing doesn't normally bother you. Not only are the routes tall, but they are located on the edge of a crumbly cliff that overlooks the coulee, which makes clipping the anchors at the end even more daunting. But most routes here are well-bolted and falls are protected, so it's worth trying hard. There are routes with a variety of difficulties here, from 5.4 to 5.12.
For shorter pitches, The Feathers are the other iconic area at Frenchman Coulee. Right off the parking lot, this area is super accessible, which means it gets busy quickly. Though these shorter columns don't get as much sun as the Sunshine Wall, there are routes on either side of the rock formation (north and south) which means you can escape the wind by switching sides. With climbs that err on the easier side (the hardest being 5.10c), this is a great place for new climbers, new leaders, or folks wanting to push the 5.9 plateau.
If you're looking to place gear, the Middle East Wall is the one for you. This area is home to many finger and hand crack routes and a few sport routes on the columns between. The routes here are generally more difficult than the neighboring walls, and, unfortunately, they don't see much sun, meaning it's a better spot for warmer days.
The part that makes Frenchman Coulee the winter cragging spot is the accessibility. There are two main campsites here: a smaller one on the northside of The Feathers and a larger one between the south side of The Feathers and the other walls. Though it can be tricky to secure a camping spot on warm weekends (get there early!), once you do, you're set for the entirety of your trip. Campsites are suited for cars and tents and are accompanied by campfire pits. No wall is too far from the lot, meaning it's easy to come back and grab lunch in the middle of the day. There are also bathrooms located in the bigger lot (bring your own TP!). Camping here does require a Discover Pass, however.
Bank's Lake
Similar to Frenchman Coulee, Bank's Lake is on the east side of the Cascades, meaning it leans on the side of dry and sunny. About 75 miles from Chelan, it does feel a bit in the middle of nowhere, but if you're wanting to stay away from the Frenchman Coulee basalt, Bank's Lake is a place to find some winter granite. Though this spot will also grow bitter in the dead of winter, the drier climate means it's accessible in the late and early seasons.
Though this area is also dominated by sport routes, there are a good amount of trad routes here as well. The granite is Cascade-quality, but oftentimes there are loose holds to watch out for. There are also several boulders in this area, something Frenchman Coulee lacks. If rope climbing isn't your speed, there are options to winter bouldering here as well.
The Roadside Rock climbing area has the most routes, and they are mostly sport. This area is east and west-facing, meaning you'll have to pay attention and keep moving around if you want to stay in the sun. There are a variety of route difficulties here from 5.6 to 5.12 and even a few multi-pitches.
Climbing at Gibralter Rocks is split almost evenly between sport routes and boulders. In fact, there are several four and three-and-a-half star sport routes in this area at 5.10b/c, 11b, and 12b/c. The boulders in this area are a bit dirty and may require some love before climbing away. The established routes here are all on the easier side, never any harder than V3.
The Bank's Lake area has some other unique climbing styles beyond just sport, trad, and bouldering. Although not very winter friendly, keep the Lake's deep water solo-ing routes in mind for the summer. However, come the winter, there are a number of mixed and ice routes in this area. The season for ice climbing is short here, and the routes are known to be a bit stiff, but if you're up for the challenge, Bank's Lake has the highest concentration of ice routes in all of central Washington.
Since Bank's Lake is a summer boating destination, there are lots of options for camping in the area, though the accessible ones will cost you a bit. The nearby Coulee City has a few options for grocery stores and restaurants, so you can definitely lean into the glamping.
Mount Erie
The options west of the Cascades are definitely slimmer in the winter due to the consistent rain during these months. However, there is one westside climbing area that's been known to be dry every now and again in the cold months. Mount Erie is located only five miles from the city of Anacortes on Fidalgo Island. Since it's on an island, the climate is a tad drier than its inland neighbors meaning, if you watch the weather carefully and time it right, you can get on the rock here during the cold months. One added benefit to Mount Erie being on the westside of the mountains is the occasional luck in the temperate climate! This means you might be so lucky to experience warmer than 50 degree weather in the sunny parts during the dead of winter.
The rock here is diorite and it creates a plethora of different styles of climbing. Though this area is dominated by sport routes, you can find variety in small, balancy, crimpy routes and pumpy jug-hauling routes. There are several trad routes here as well, and a few multi-pitches, so the options are plenty. However, the rock is known to be a bit crumbly, so be sure to equip yourself with a helmet.
A contender for the ultimate winter climbing spot at Mount Erie is the Sunset Slab climbing area that, as the name implies, gets a good amount of afternoon sun. The climbing here is generally short, easy, and slabby, the hardest route being 5.10b/c. It's a great place for a new leader looking to get their feet under them as the routes are well-protected.
Just above the Sunset Slab area is the Powerline Area which also reaps the benefits of the sun, but is a bit more forested. The Powerline Area hosts longer routes with a tad harder difficulty (hardest being 5.11b). There's also a ton of variety here. Though, again, most routes are sport routes, there are a few trad routes to dabble with. The approach to this area is also significantly shorter than the approach to the Sunset Slabs, meaning it is a popular spot. Get there early if you want to avoid the crowds!
Though the Powerline Wall and Sunset Slabs are certainly great options for the winter, the Main Wall area has to take the cake. This south-facing wall receives the most sun and is generally quickest to dry after a rainstorm. There are a variety of routes here between pumpy and balancy and super techy. The routes range from 5.7 to 5.12 and many provide easy top-rope access. There are also a good number of trad routes here and a few multi-pitches to satisfy the itch for a longer day on the rock. This is another spot to get to early as it'll fill up quickly with desperate westside climbers, so plan on getting there early!
Unfortunately, there aren't any great places to camp right off Mount Erie. There's paid camping at the Lake Erie Store at the base of the mountain, but beyond that, it's best to plan on finding camping elsewhere on Fidalgo or the surrounding areas.
Tieton River
Let's head back to the eastside for Tieton River, a climbing area reminiscent of Frenchman Coulee, but more of a trad-dad wonderland than its basalt cousin. Tieton River is about ten miles out of Yakima and has a similar column geology to Frenchman Coulee, though not as dramatic. Again, it's dry climate makes it a top contender for winter cragging, especially if you want to place gear instead of clip bolts.
Though similar in looks to the Frenchman Coulee basalt columns, most of the climbing here is on andesite, similar to basalt. The rock here has similar deck-of-cards face features, but they are certainly smaller and slicker in texture. The cracks here are also less chossy compared to those at Frenchman Coulee, which makes it a better spot for placing gear.
For trad routes, it's best to stay in the lower canyon. The Royal Columns is most popular here as it's also the most accessible. Accessible certainly in terms of approach, but also route difficulty. This hosts a number of beginner-friendly routes as well as a few hard ones, the hardest being 5.12. There are a variety of crack routes here too, from finger cracks to burley off-widths. The featured face of the columns also means you can play with the face even if climbing a crack route. The Orange Sunshine portion of the Royal Columns is especially warming in the winter months as it remains mostly in the sun.
The Bend is also another great spot for trad climbers, and here the routes get a bit more difficult, though the sweet spot for these crack climbs is certainly in the 5.10s. These routes are also long, up to 90 feet in some areas. With little to no forest, this area is more likely to stay warm when the sun is out.
For sport climbing, you have to head higher into the drainage. The Lava Point area is home to a variety of vertical and overhung sport routes. Here, you can find slopers, jugs, and the occasional pocket. Routes here are a bit stiffer, between 5.8 and 11d, and have a similar exposed feel to the Frenchman Coulee columns. For more difficult routes, The Cave climbing area certainly has Lava Point beat, but it isn't as winter-friendly as Lava Point.
There are a few paid camping areas along the South Fork of the Tieton River. There are bathrooms at these sites as well. These sites work for cars, tents, RVs, you name it! However, be aware that snow may make it tricky to get into these sites.
BONUS: Leavenworth
If you're up for more of a challenge, there is winter climbing to be had in the Leavenworth area too. Although Leavenworth will, without a doubt, see snow in the winter months, the drier eastside climate means there will be pockets of good weather to take advantage of for winter ascents. Although you're certainly limited in options, if you're willing to look for a dry rock, you'll find one eventually.
The iconic Leavenworth granite is home to many classic trad and sport routes. Considering that Icicle Creek Road gets snowed in during the deep winter months, winter climbers have to stay closer to town for options. The Purina Crags are an option with a few three and four star trad routes. Playground Point also stays accessible if you want to keep the climbing easy. The Clamshell areas, though with a longer approach, are likely to have some winter-friendly climbs.
In general, so long as you don't mind slogging through the snow to get to a route, you can find a few winter gems in the Leavenworth area. It's definitely best to stick to the south-facing slopes here as you'll have best luck with the sun and dry routes.
---