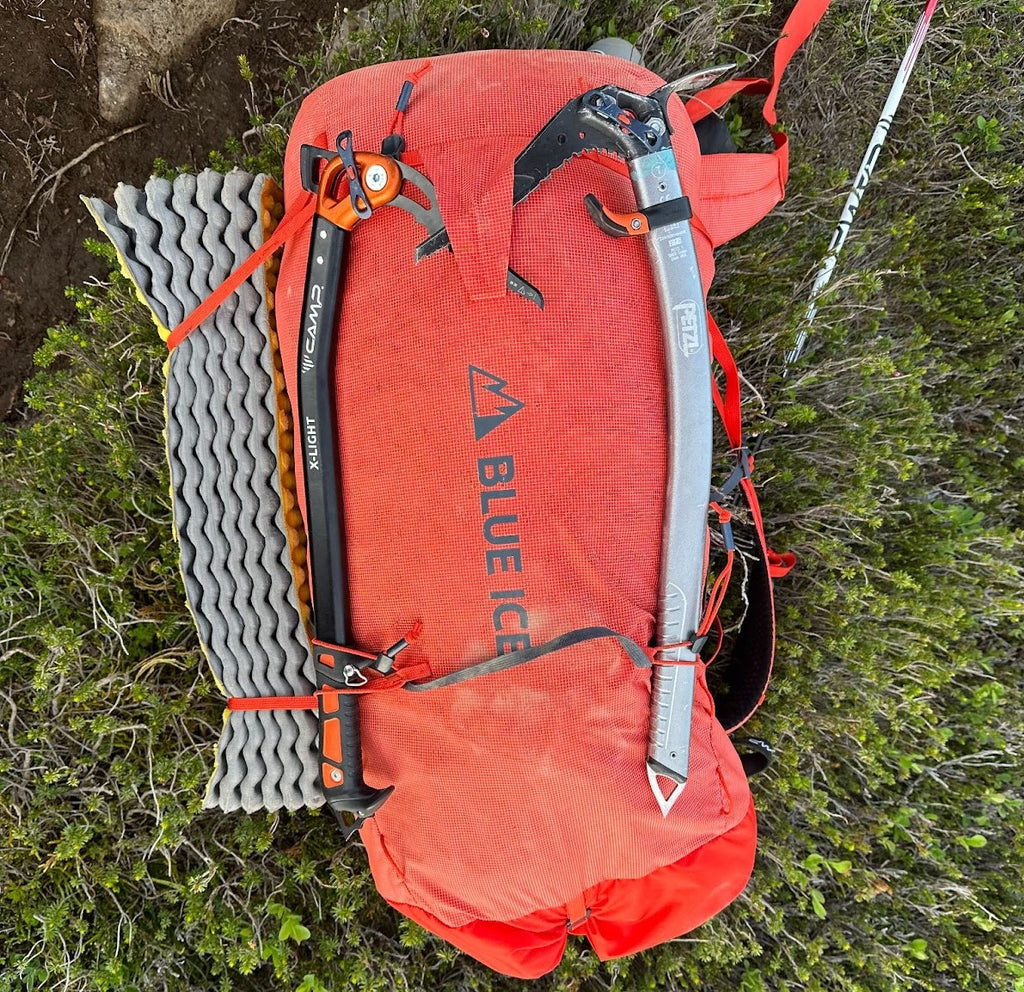 Stache 60 Review
The Bottom Line
Without breaking the bank, the Blue Ice Stache 60 provides a super simple, super versatile, super and light pack to support you on a wide variety of multi-day adventures in the mountains. It's not a pair of Carhartts, but when you've got a lot of kit to carry around, and weight counts, this pack is about as good as it gets. When I'm intentionally trying to go light, but have to hump around a decent amount of gear, this pack is my new go-to.
Ideal Routes
Really any multi-day trip in the mountains that requires carrying a full kit. Think: 1 week+ long ski traverses, base camp style climbs, multi day alpine rock routes. 
Bugs, Ptarmigan/Inspiration/Isolation Traverses, Wind River Range, Goode, etc…
The Review
To preface this entire review, until relatively recently, I've been more or less a quiver-of-two (maybe three) climber and skier when it comes to packs. For years, I've stuck to two sizes, 45L (1-3 days), and 75L (3-7 days), and haven't really spent too much energy (or money) on saving weight. To quote a wise friend, "that works until it doesn't", and a new-found obsession with longer, ski-traverse style trips, and a desire to not carry a Denali-sized load on days off led me to investigate the possibility of diversifying my assets, as they say. With all that being said, I was pretty psyched when the AAI shop asked me to take the Blue Ice Stache 60 for a season-long spin in the cascades. 
When I received the pack, I was immediately impressed by the no-frills design. It's noticeably quite light - 825g is a lot less than what I typically roll with. However, it still boasts a solid set of side compressions straps, ice tool holders, a removable brain with multiple attachment options, two separate draw-string options to seal the top, and a long G-hook strap to either synch the brain down, and/or mount a rope on top of the pack. Those check most of the boxes for what I look for in a technical pack, and I felt confident that I could use it for most of my multi-day trips over the course of the summer. My only initial hesitation came from the fabric. The 210D Robic Nylon Ripstop Fabric that composes the bulk of the body of the pack immediately felt rather light, and I've always been a "tools not jewels" user of gear, so while it was theoretically burly, I really didn't want to immediately shred it.
With all that being said, I immediately set out to attach a pile of sharps to the outside of the pack, load it up with a solid load, and take it to the races. I took it out on the following notable outings, which I've listed in order of occurrence, and provided a brief summary of the kit that I took with me below:
3-Day Baker Ski Basecamp

Glacier ski kit

Mid-style bivvy kit for 2 nights of camping on snow

Baker Double Carryover (Up N Ridge, Down Boulder Glacier, Traverse Boulder, Talum, Squawk Glaciers, Down Coleman Deming)

Glacier ski kit

Alpine ice kit

Mid style bivvy kit for 2 nights of camping on snow

Shuksan Via Sulphide Glacier

Glacier Mountaineering Kit

Light Alpine Rock Rack

Four season tent kit for 2 nights of camping

5 Day Glacier Seminar

Glacier Mountaineering Kit

Four season tent kit for 4 nights of camping

Heaps of food

3 Day Alpine Ice Basecamp

Glacier Mountaineering Kit

Alpine ice kit

Four season tent kit for 2 nights of camping

Heaps of food
The Pros
No matter the load, or the outing, I found the pack to carry generally super well, with one exception (read on!). While they lack significant cushion, the hip and shoulder straps never bothered me, even in a T-shirt and shorts. When packed thoughtfully, I could walk, hike, climb or ski for hours with a multi-day load and no significant discomfort. Blue Ice thoughtfully included load lifter straps, which oftentimes get omitted on ultralight packs, and this made a world of difference on some of the heavier loads that I humped around. 
Not all packs ski well. Black Diamond has done some fancy stuff building a suspension system into their ski packs that allow them to manage a heavier load under typical ski movement. Blue Ice doesn't have a system like this, but I found that when thoughtfully packed, I could still totally charge downhill, even in steep terrain, even in marginal snow conditions, even with a multi day pack. That's pretty sweet if you ask me. 
I never found an outing that this pack couldn't do. One tool? Two tools? Skis? All that and a snow picket? Ropes? No problem. Volume is one thing, but the ability to comfortably and securely attach a myriad of gizmos to the outside of a pack (with taste and style, of course) is another, and this pack did the trick 98% of the time. 45cm light ice axes (CAMP Corsa Alpine) did not attach super securely, but as soon as the tool had a pommel (Petzl Gully), no problem, just slide it up to the spike. You could make the argument that this is a moot point, as the axe could fit in the pack (tres Euro), but it's worth noting. 
The pack has four pockets. The main mega pocket, a water bladder/oxygen canister pocket that's flush with the back, a zippered accessory pocket at the top of the back, and the removable brain. With thoughtful packing, that's all you need, and arguably more. I don't think that I used the zippered accessory pocket for more than a biffy bag and a kindle for the entire summer. I'm a big proponent of one big, top-loading pocket in my packs, since with thoughtful packing, pretty much anything is possible, and you're never limited by much more than the pure volume of the pack. Simpler+lighter=more versatile=easier to pack=better in my humble opinion. 
For a ski application, sure, the pack doesn't have an avalanche tools pocket, but I didn't find it to be a major detractor from my experience using it. In a relatively stable snowpack, my risk tolerance allowed the use of a pack without a dedicated avy tools pocket. If I was making steep ski descents in Colorado in January, the first question might be "why?" and the second question might be "why are you using that pack?". With thoughtful packing, and the use of a voile strap, I was able to keep my avy gear accessible in the pack for the bulk of my skiing. At the end of the day, if one were worried about avalanches on the North Ridge of Mt. Baker, then they probably shouldn't be there… 
The Cons
I don't have much in the way of significant negative feedback to share about the Stache 60. What I've managed to provide as "dirt" on the pack are small details that impacted my experience in the mountains. I don't pay for custom packs, so I really don't have that much room to complain, but here it is:
My concerns about durability with the fabric were quickly realized. As it turns out, ice axe picks and ski edges are sharp, and if you spend a prolonged amount of time dragging them against a fancy ripstop fabric, it will, in fact, rip. Dropping the pack on sharp rocks will do this as well. Are you surprised? I hope not! The pack developed holes relatively quickly, but after a season, they didn't really grow. 
(ski edges don't like fancy fabric!)
(Ice Axe Picks don't like fancy fabric either… shocker!)
On a separate note, I did notice that some of the stitching has started to loosen near the hip-belt. This hasn't led to a failure yet, but I foresee this becoming an issue that needs addressing in coming seasons. 
The shoulder straps, and side compression straps on the pack were relatively skinny, and when put under a significant load (AKA skis and boots), they would loosen over time, to the point where I would need to tighten them at least once an hour when really hoofing it downhill. If you're not carrying loads like this, then no problem, and carrying skis without the boots wasn't an issue, but spring skiers who need to approach on trails, you've been warned.
The brain of the pack works great as an accessories pocket that is stored inside the pack (I call it the junk drawer- it stores all the little goodies), but when mounted on the pack as a brain, it's a bit small, and kind of awkward. It doesn't detract from the experience of using the pack, but I definitely found myself removing the brain more often than not.
When I used this pack as a summit pack on basecamp-style ascents in the mountains, it sometimes had a tendency to bulge awkwardly, and look like a muffin. If you're aesthetically picky, just know that turning a 60L pack into an 18L pack comes at a cost. Big whoop. 
Okay, last thing to complain about: Just like any light pack, the Stache 60 is not a load hauler. It won't perform like a beefy 105L Denali pack, and won't perform like a well cushioned backpacking rig. At 35-40lbs, the comfortable carry stops, and it becomes a bit more unpleasant. This is a common complaint of folks using Hyperlite packs as load haulers, so there seems to be a pattern: Light packs are bad at heavy loads. Go figure!
Final Thoughts
Table 1. Comparison of Comparable Packs
| | | |
| --- | --- | --- |
| Pack | Weight (g) | Cost (USD) |
| Blue Ice Stache 60 | 825 | $260 |
| Hyperlite Porter 55 | 936 | $389 |
| Hyperlite Headwall 55 | 1180 | $449 |
| Hyperlite Ice Pack 55 | 973 | $389 |
| Black Diamond Speed 50 | 1026 | $215 |
| Black Diamond Mission 55 | 1080 | $245 |
When I think about light and mainstream, I think "Hyperlite". When I think about climbing and mainstream, I think "Black Diamond". I definitely have a bias towards American brands in my pack stereotypes, but I went ahead and collected the weights and costs of comparable packs made by these two brands. At $260 for anand 825g pack, the Blue Ice Stache 60L clearly stands out. Sure, it's a bit more expensive than the Black Diamond options, but not by much, and considering that it's both lighter than all of the comparable models, and cheaper than every Hyperlite model;, this pack certainly stands out. If my subjective evaluations above don't sell you on the pack, I hope that these numbers do. 
At the end of the day, Blue Ice did a darn good job with the Stache 60. Sure, it's a bit fragile, but not so much that I wouldn't trust it on the majority of missions in the alpine. It's light, competitively priced, and does a pretty darn good job at everything that you can throw at it. When it's time to pack up for a multi day trip in the mountains, this is my new default choice. 
- Ian Peterson, AAI Guide
---